KNITlig er en sammensætning af flere ord
KNIT – som på dansk oversættes til STRIK og lig, som er slutningen af flere ord jeg forbinder med at strikke, blandt andet hyggelig, salig(lykkelig) og kærlig. Jeg skiftede navn fra Strikkestudio i Marts 2020 Alle opskrifter som blev designet under Strikkestudio er nu flyttet til KNITlig
Mine designs er meget forskellige og jeg bliver inspireret mange steder fra, det kan være naturen, et snit på et stykke tøj i mode billedet, en farve sammensætning eller former som jeg ser alle steder. Jeg designer ofte tøj som jeg mangler i mit eget klædeskab og kan godt lide at fifle med detaljer og et feminint touch.
Bag KNITlig står jeg Tanja. Jeg er 33 år gammel og bor i Vodskov, som er en forstad til Aalborg. Jeg bor sammen med min lille hund, en papillon på 10 år ved navn Kato og mit livs kærlighed.
Som person har jeg altid været kreativ, og har igennem mine unge år været omkring diverse kreative hobbyer. Jeg har altid fundet ro under min fordybelse i min kreativitet. Det var dog strik som i min voksen tid overtog.
Jeg er drevet af at se den glæde I giver mig, når i stolt viser jeres udgave af mit design frem. Jeg elsker at se jeres fortolkninger, farvevalg og snakke med jer om jeres overvejelser heraf til designet. Jeg elsker at strikke og skabe og en dag besluttede jeg mig for at jeg skulle give mine skaber evner videre.
Baggrund
Jeg er oprindeligt uddannet Butiksassistent med speciale i møbler, hvilket jo ikke har meget med hverken strik eller garn at gøre.
Hvem lærte mig at strikke
Jeg lærte ikke som mange andre at strikke af et ældre familiemedlem, der var ganske simpelt ikke nogen i min familie som strikkede.
Jeg lærte derfor først at strikke som voksen og har derfor relativt få års strikke erfaring.
Hvem lærte mig det så?
Det kræver en smule længere forklaring om min baggrund. Jeg blev i 2011 diagnosticeret med en sjælden tumor i hovedet (en parganggliom, hvis nogle er nysgerrige). Jeg er blevet opereret en håndfuld gange i både ind og udland, samt været igennem en serie af strålebehandlinger.
Jeg havde op til mit sygdomsforløb lært de basale strikke teknikker, af en bekendts mor. Men
under mit 4 uger lange ophold på rigshospitalets patienthotel, i forbindelse med strålebehandlingerne, lærte en sød ældre dame fra Falster mig sådan rigtigt at strikke. Jeg har strikket lige siden, og brugte siden hen meget youtube samt min lokale garnbutik når jeg skulle have hjælp til at rette fejl. Ellers har jeg altid bare prøvet mig frem, hvilket ofte er drevet af min dovenskab til at trævle op, jeg er derfor blevet rimelig god til at rette fejl, selv langt nede i et strikketøj, hvis jeg selv skal sige det. Garn og pinde har helt sikkert været med til at give mig livsglæden tilbage og jeg har uden jeg vidste det brugt strikning som terapi.
Jeg gik i et par år med tanken om at åbne en webshop, jeg fik mere og mere blod på tanden til at udvikle og besluttede i samråd med min kæreste, at springe ud på dybt vand og åbne webshoppen, det kunne jo ikke gå værre end galt. (Sagde nordjyden)
Jeg har endnu ikke fortrudt og glæder mig hver dag over at jeg endelig har fundet min egen hverdag som førtidspensionist og strikkedesigner.
Marts 2020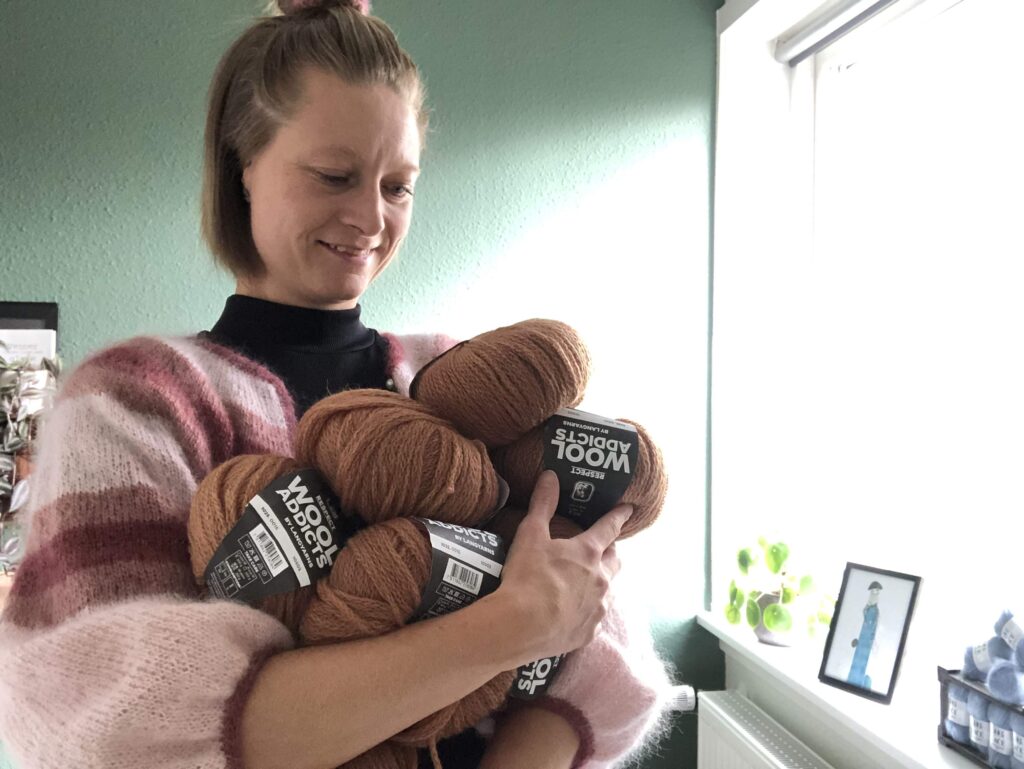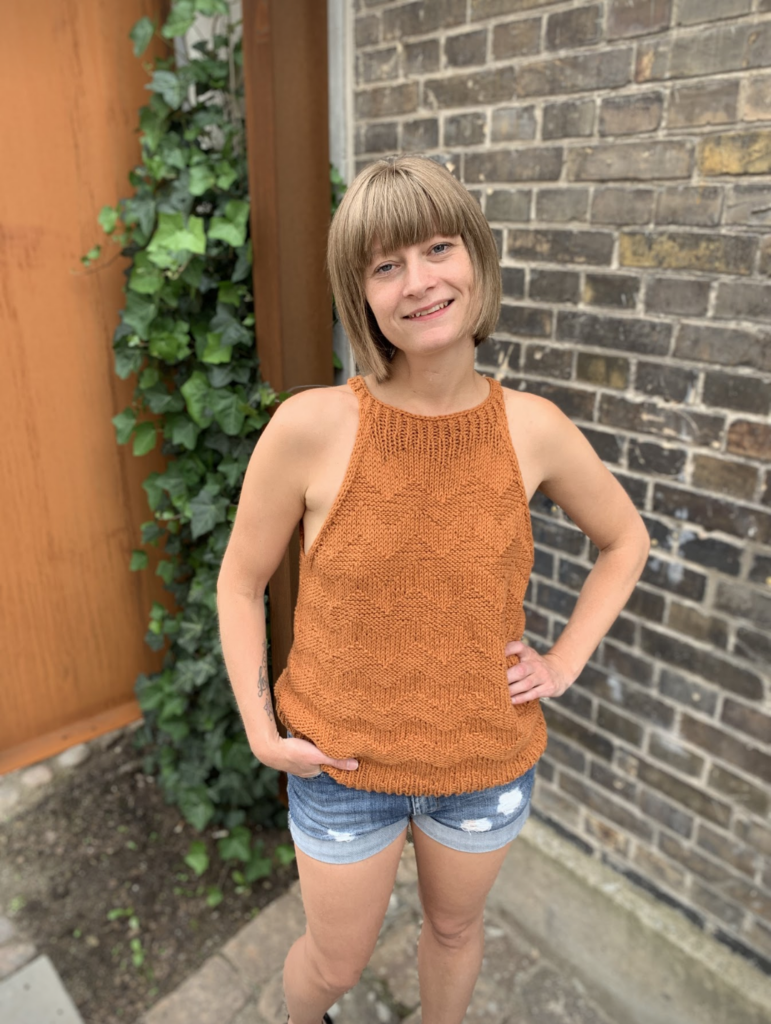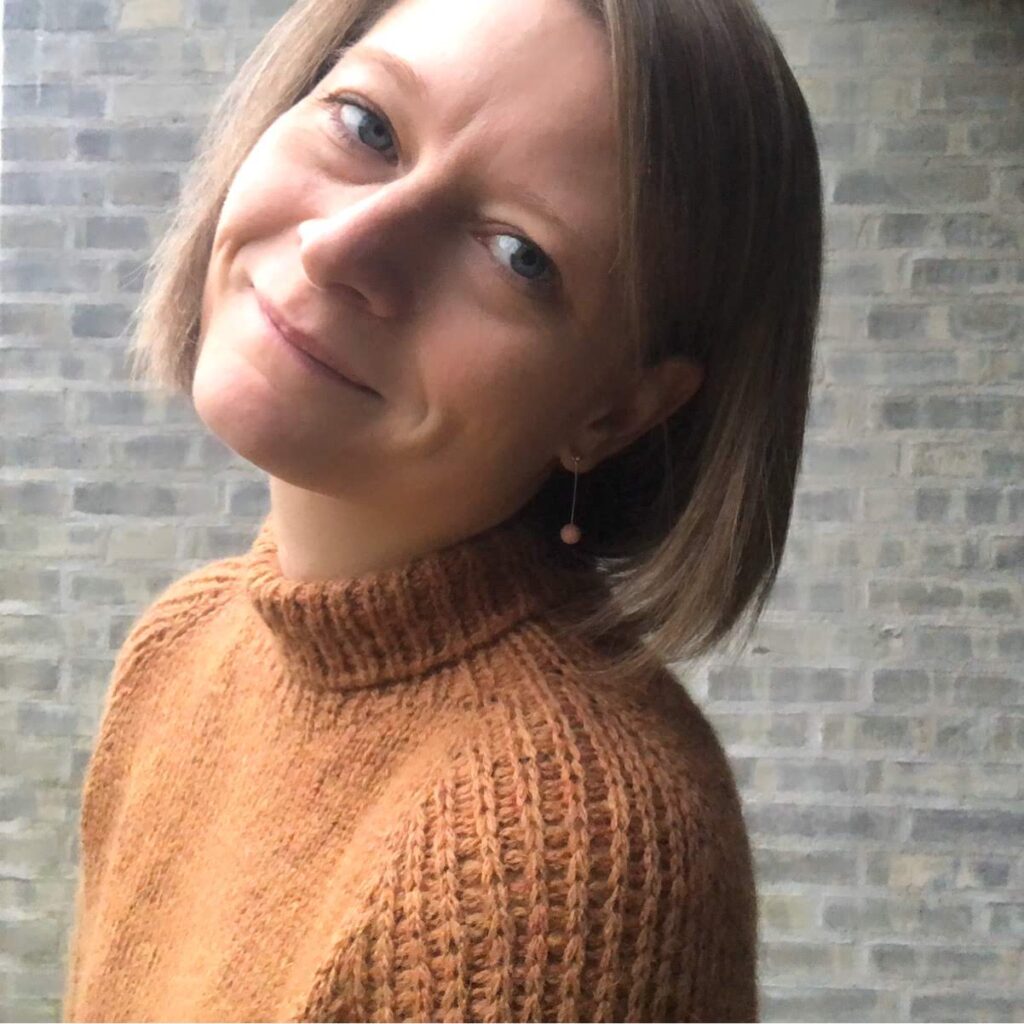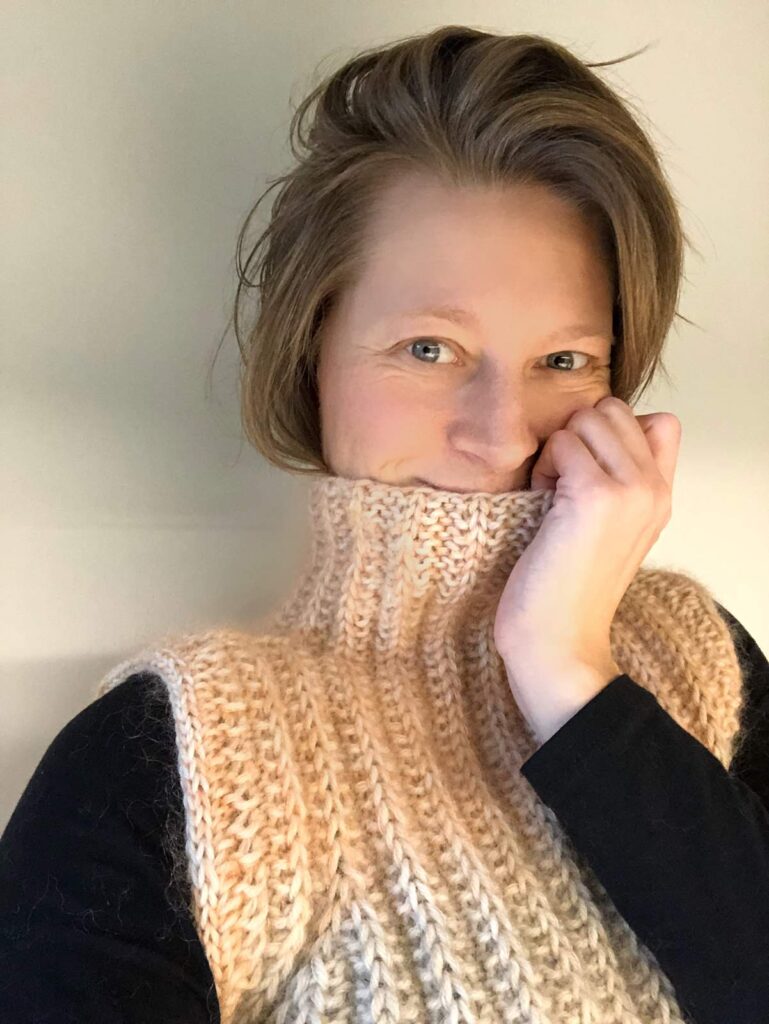 KNITlig is a combination of several words 
KNIT – and lig which is the end of several words on Danish I associate with knitting, among other things cozy (hyggelig), blissful (lykkelig) and  oving(kærlig). I changed my name from Strikkestudio in March 2020 All my patterns  Designed under Strikkestudio have now been moved to KNITlig.
My designs are very different to eachother and I get inspired from many places, from nature, a piece of clothing in the fashion, a color composition or shapes I seen somewere. I often design clothes that I lack in my own wardrobe and like to fiddle with details and a feminine touch. 
Behind KNITlig is Tanja. I am 33years old, living in Vodskov, which is a suburb of Denmark's 4th largest city named Aalborg in the northern part of Denmark. I live together with my little dog age 10 and my boyfriend. As a person I have always been creative, and throughout my young years I have been around various creative hobbies. I have always found peace during my immersion in my creativity. However, it was knit that took over in my adult life. I am driven to see the joy you give me when you proudly showcase your version of my design. I love to see your interpretations, color choices and talk to you about your considerations of these. I love knitting and creating and one day I decided to give my creator abilities further. 
Bagground
Originally, I have an education as a trained shop assistant specializing in furniture, which by far has something to do with either knit or yarn. 

Who taught me how to knit
I didn't learn, like many others, to knit by an elderfamily member, there was simply no one in my family who knitted. I first learned to knit as an adult and therefore have relatively few years of knitting
experience. 
Who taught me then? 
Well It requires a little longer explanation about my background. In 2011, I was diagnosed with a rare tumor in my head (a paraganglioma, if some are curious). I have been operated a handful of times
both at home and abroad, as well as through a series of radiotherapy treatments. Up to the course of my illness, I had learned the basic knitting techniques, by an acquaintance's mother. But during my 4-week stay at the National Hospital's patient hotel, in connection with the radiation treatments, a sweet elderly lady taught me how to knit. I have been knitting ever since and have since. I have used a lot of youtube as well as my local yarn shop when I needed help correcting errors. Otherwise, I have always just tried my way out, which is often driven by my laziness to knit backwards. Yarns and needles have certainly helped giving joy of life back and I have, without knowing used knitting as a therapy. 
I went for a few years with the idea of opening a webshop, I got more and more blood on the tooth to develop and decided in consultation with my  oyfriend, to jump into deep water and open the web shop, it could not go any worse than wrong. 
I haven't yet regret and am delighted every day that I have finally found my own everyday life as early  etirement and knitwear designer. 
March 2020